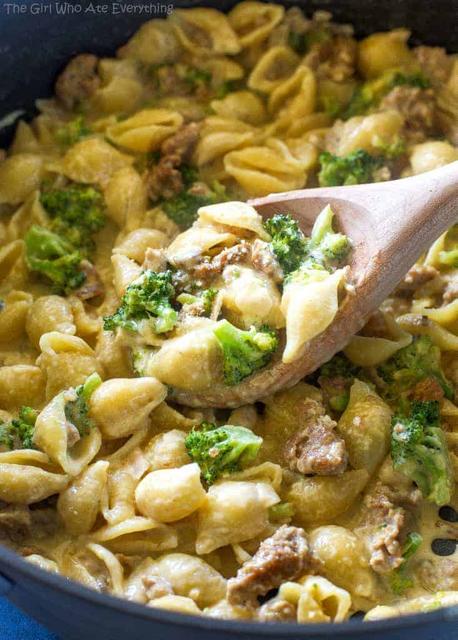 https://images.app.goo.gl/eup9WQTwjQBnA1g49 
Feeds Four
Ingredients:
1 lb Orecchiette pasta
1 lb Hot Italian Sausage (loose)
1/2 lb Rapini (Broccoli Rabe)
2 oz Cognac
1- 1 1/2 pints Garlic Cream Sauce
Instructions:
I always pre-cook my pasta, rinse well in cold water to prevent sticking and set aside.
Brown sausage well and drain grease... I use a large skillet or a wok for this recipe.
Replace sausage in skillet and add rapini and cognac... make sure to flame the cognac. It gives off a vanilla flavor when flamed.
Add garlic cream sauce (recipe below) and heat well making sure not to boil it. When cream sauces boil they "break"- bead up. It doesn't affect the flavor, but makes it a lot less aesthetically pleasing.
Add pasta and cook until hot... then it's ready to serve. This is an easy one-pot meal and it tastes terrific.
Garlic Cream Sauce:
1- 1 1/2 pints heavy cream (depending how creamy you like your pasta)
4-5 cloves roasted garlic
For a quick sauce you can mince the garlic and put it in the cream when you heat it. Always cook on low heat to avoid boiling.
When I make it, I do it a day early and wrap the garlic in cheesecloth. Once the cream is hot I remove from heat and allow to cool, then refrigerate overnight. Remove garlic before reheating. I prefer a plain cream sauce without chunks of garlic floating around, but it's a matter of personal taste- I tend to be a perfectionist when I'm cooking.
I made this at the Italian restaurant I cooked at in Wisconsin and one of the customers said it tasted just like the way her Nonna made it in Sicily. Also legendary football coach Barry Alvarez used to come there with his wife every Wed. night and order it.
Buon Appetito