Meme by me @richq11 via imgflip.com
George Carlin had a marvelous way of cutting through all of the BS and getting straight to the heart of the matter, whether he was critiquing politics, society, religion or what have you. So I'm going to try and channel my inner George and give you my no BS view of politics in America... beginning with a very apt quote from the late great Ambrose Bierce: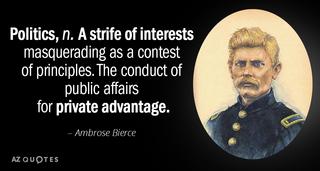 https://images.app.goo.gl/wrjrbM1UbuyUPuDb6 
In other words politics is public affairs performed by corrupt selfish psychopathic scumbags for their own benefit- NOT YOURS!
Lord Acton informed us that power corrupts, however, Frank Herbert, author of Dune tells us: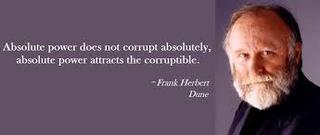 https://images.app.goo.gl/2nQqRdVt3wwvqGv57 
So there you have it... politics, or public affairs, attracts the most corruptible among us- the psychopathic scumbags- the more power involved, or the higher up the political food chain, the more corrupt they become. And it doesn't matter what party they belong to, the outcome is inevitably the same. Mika Waltari so eloquently wrote: "For this is called politics and is the greatest of all arts, for sooner or later adherence to either party leads to one and the same end."
In 2016 someone from outside the pool of psychopathic scumbags managed to win the US Presidency and nothing has been the same since. The American people have one of their own in the White House threatening the psychopathic scumbags' hegemony on power.
This actually makes things a lot simpler... if you want to know who the psychopathic scumbags in and out of government are, just look for who pushes back against President Trump the hardest. Conversely, if you want to know who the good people are, just look for who support him. People in politics always say the issues are too complex for average Americans to understand. However, the psychopathic scumbags unwittingly made things very simple... so, thank you psychopathic scumbags.