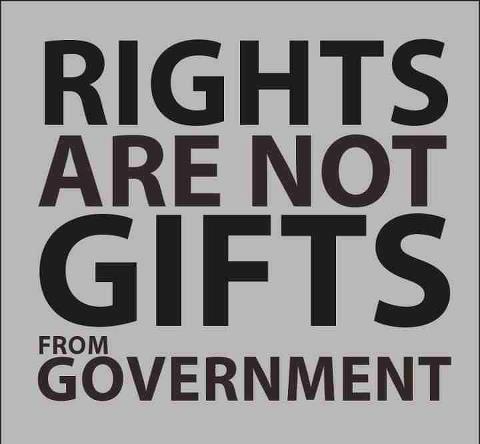 https://images.app.goo.gl/WxtNbs2wdhnYGbAC7 
"We hold these truths to be self-evident, that all men are created equal, that they are endowed by their Creator with certain unalienable Rights, that among these are Life, Liberty and the pursuit of Happiness.–That to secure these rights, Governments are instituted among Men, deriving their just powers from the consent of the governed..." Declaration of Independence
How things have changed since the founding of our country... we live in an age where the government would have us believe that they are the sole arbiters of truth and whatever rights we have left are theirs to either uphold or remove at their whims. One good example is the impeachment hearings being conducted in Congress- if rights don't apply to a sitting president, then who? In this sham of a circus, due process has been completely dispensed with and the rights of the accused are whatever the lead clown in this circus say they are... the same goes for the rules. Given that there have been only two impeachments before, the rules a may be sketchy- but the legal standard, "high crimes and misdemeanors" has been completely thrown out. President Trump is being impeached because the Democrats don't like the outcome of the 2016 election. If this can be done to a president, it doesn't bode well for the rest of us,
 Aside from the obvious commentary about what happens when Democrats obtain power, the headline suggests a far deeper problem confronting our country. It is only a matter of time before anti-constitutional forces seize control of the Senate, or perhaps the White House, and when they do, what historically American citizens consider to be unalienable rights will suddenly disappear.  The coming purge of natural rights is inevitable. 
 When we talk about natural rights, non-fascistic Americans understand this to be what is embodied in Bill of Rights, which are declarations enshrined to protect the individual from the tyranny of the government.  These rights are considered innate natural rights, which vest in a person because of his humanity, rather than his political loyalties or beliefs.  They are unalienable because they derive from that humanity, rather than one's fear of or allegiance to a political party or government.  Political rights, however, are what immoral politicians have empowered themselves to grant, and "rescind," depending on whom the rights benefit.  When it appears politically advantageous to gift a new right, meaning to manufacture a preference to benefit a political faction or interest group, regardless of the will of the general population, then that "right" will suddenly materialize to reward political fealty or to buy favor.  When a politician or political mob believes that their opponents must be punished, then those same politicians will cancel natural rights that protect the equality and liberty of the citizens who are their enemies. 
What is happening in reality is just a part of the Left/Cultural Marxist war to remove God from public discourse. They serve the powers of darkness and have convinced a good part of the country that they are the dispensers of rights and not God. These are evil people who will stop short of nothing to seize power over the entire country and they've made great strides during every administration since Ronald Reagan. This Satanic attack against everything in society wrought by God goes far past just politics, it has consumed the legal profession and every aspect of society. Removing prayer from school and no fault divorce were two important factors. Remember when a marriage was a covenant between a man, woman and God? "What God has joined let no man tear asunder."
Satan and his minions on earth appeal to the inherent selfishness of mankind... the things of this world. Humans have been inherently hedonistic since the beginning of time- something religious leaders and philosophers have wrestled with since the beginning of civilization. Now we live in a pop culture driven by "if it feels good do it," something not overlooked by the political class who will gladly trade God-given rights for hedonism... the price? Your freedom.
 When God is acknowledged, then natural rights are unalienable.  When government is god, then rights are the property of the government.  After all, if God is merely imaginary, then so too is the supremacy of the human being as He created it because, as far as totalitarian fascists are concerned, He didn't.  It's useful to recognize that socialism is atheistic, to help understand how they devalue life.  If we can deny the divinity of God, we can devalue His creations, so that they are nothing more than pawns to be used and expended for the gain of those who would rule them.  If human life has no natural value, because it is not of the divine, then there is nothing lost when it is extinguished.  This is true no matter the stage of life of the one to be canceled.  If human life has political value, however, then its value lies in its capacity for exploitation.  
This is why abortion is such a necessary part of the Democrats' platform. It is also why God must necessarily be removed from the public discourse. They will never admit that there is a power above them- to do so would be political suicide and for the Democrats/Left/Cultural Marxists political power is everything. There's a reason that totalitarian regimes are called totalitarian- they control every aspect of human interaction. Little by little, they have been chipping away at our rights, the "right to life" being forst among them as stated in the Declaration of Independence. It was with this document that we declared our independence from totalitarian rule. Now the Democrats and their allies on the other side of the aisle want to reimplement totalitarianism... the only thing standing between them and success is President Trump.
 The same repression threatens all the other fundamental rights, including the right to speak, the right to worship, the right not to be spied on, the right to due process, the right to confront one's accusers, even the right of citizens to have their views represented by those they elect to office.  It is not accidental that all of these have been willfully swept aside by Democrats in their zeal for total control.  When free people are not yet servants, then the rights that make them free must be rescinded, though they were not granted, so that the servants can assume their proper places in the political, social, and cultural hierarchy to which the powerful have consigned them. 
The Democrats see themselves as our betters, elites meant to rule over the rest of us. They and their allies, "the anointed," bi-coastal elites, who view the rest of America as rubes; "deplorables" unfit to rule themselves. This is particularly true of the media who view themselves as the arbiters of truth, hence the push for censorship on social media. Nothing could be more damaging to their agenda than a forum where the "peons" have a voice. How dare anyone not selected by the anointed- racial minorities and the LBGTQ+ pedophiles- demand to be heard?
 Under these rules, there really are no longer such things as "rights."  There are instead statements of preference and priority, given by political movements to their friends, and taken where they already exist from their enemies.  To fascists, rights are merely tools of power, to be wielded to advance some while making others vulnerable or forfeit to the equally malicious whims of those in charge.  Your freedom and even your life is not too high a price for the Democrats to pay to own you and all you possess.  They are fully prepared to go there. 
The only roadblock is a Trump victory in 2020. If impeachment fails (and it likely will) all the Democrats have left is assassination and if you don't think they'll stoop to that just ask Abraham Lincoln. The Democrats, even before JFK, are little more than a criminal enterprise. Now their cabal is threatened and they-along with their media allies- are circling the wagons. The people behind them- the Rothschild diaspora, Soros, etc., are afraid of exposure and worse yet, prosecution. You need to get out and vote in 2020- vote like your life depends on it, because it does. It's your choice, natural rights as given by God, or the scraps from the Democrats' table.
 https://www.americanthinker.com/articles/2019/11/natural_rights_versus_political_rights.html