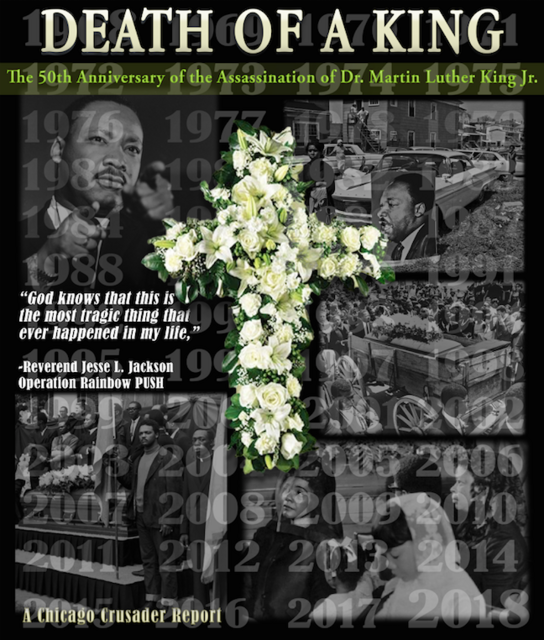 https://images.app.goo.gl/wyAtwsAofRpZJ4kR7 
I've argued from the very beginning that James Earl Ray wasn't the shooter in Dr. King's assassination. Then why did he confess you ask? He didn't, he pled guilty- not the same thing. You have to look at in the context of the times, there were riots going on everywhere and the black community was more interested in revenge than justice. Ray was the scapegoat. If he had gone to trial he would likely have gotten the death sentence so he pled guilty to save his own life. In a video by Judge Joe Brown- who was to be the last judge to hear the trial- he released some very interesting information...
For one thing there was the rifle: Ray purchased a 30.06 with which he allegedly killed Dr King...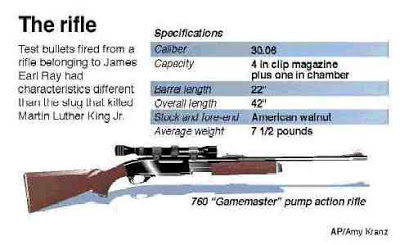 https://images.app.goo.gl/kuYmZUEmTF68quJ36 
The rifle used to kill Dr King was a 7.62x51... what Judge Joe calls an "HM-21" was likely an M-21 sniper rifle, a modified M-14. Moreover, as the video reports, Ray wasn't even in Memphis the day of the shooting. So who did assassinate Dr. King? According to the video, it sounds like a military-style op, a spotter and shooter. The shot was made from 60 yds using a 9x30 scope... Ray Charles could have made that shot. Judge Joe says they went for a headshot, something NO professional sniper would do... particularly using a subsonic round and a suppressor. To add a little perspective, when you see snipers making 1000 yard shots in movies using a suppressor- that's Hollywood, not real life. Subsonic ammo contains a heavier projectile so obviously a 1000 shot is impossible. 
In situations such as these I always ask qui bono, who benefits? I've suspected Jesse Jackson played a big part in the murder. Once again looking at the context of the times... the civil rights movement was becoming radicalized. Dr. King and others like him were basically conservatives- Dr. King himself was a lifelong Republican. The Black Panthers had just been formed and many in the civil rights movement had joined up with the radical anti-war group SDS (Students for a Democratic Society), a group of Communists. Many of those drafted for Vietnam were black. King stood between the radicals and the civil rights movement. Dr. King advocated common sense policies, anathema to radicals.
Jesse Jackson, a Democrat, had a half brother that was a member of the Vice Lords, one of Chicago's most violent as well as politically radical gangs. While most gangs were satisfied with dealing drugs, prostitution and shooting each other up, the Vice Lords had become political. Jackson was not only the hands-down successor to Dr. King, he was the bridge between the radicals and the more moderate civil rights leaders. Before radical groups such as the Black Panthers emerged the most prominent civil rights groups were the SCLC (Southern Christian Leadership Conference) est. 1957 and SNCC (Student Nonviolent Coordinating Committee) est. 1960. By the time of Dr. Kings shooting the SNCC had aligned itself with more radical groups such as SDS. Jackson was the catalyst between the groups.
The most predominant characteristics of Jackson are ambition and greed. He wanted to consolidate all of the civil rights groups under his own leadership... the only thing standing in his way was Dr. King. Now going back to the shot. A 60-yard shot with a 9 x 30 scope is a piece of cake even for an amateur, even with subsonic ammo... and only an amateur would take a headshot. However, where would amateurs get an M-21 sniper rifle and subsonic ammunition? Also how could they gain access to the firehouse? By 1968 Jesse Jackson had become very well connected politically, not only as a prominent member of the civil rights movement, but in his home city of Chicago. He was also a rising star of the Democratic Party who was in the process of setting themselves up to be the party of civil rights- they needed self-absorbed political operators like Jackson.
Another thing that tells me that this wasn't a military op is that no self-respecting sniper needs a spotter for a 60-yard shot... this, coupled with the headshot, tells me that it was a strictly amateur operation meant to look professional. My theory is that Jackson's gangbanger half-brother was the shooter and Jesse used his political clout to set up the logistics. Anyway, it's good to see Judge Joe throw some light on an innocent man- James Earl Ray.