Hello Splinterland warriors!
How are you all i hope you will be fine and blessed today i am here again with another splinterlands post and new cards that i am picking from the dragon family.
FIRE SPITTER
Small but mighty, the Fire Spitters have recently descended upon the Dragon Splinter of Draykh-Nahka, where they fit right in. They come from a faraway exotic place only known as the Pocket Dimension
Read More
Well, Recently i bought the dragon Daria Epic summoner from the monstermarket that i bought with round about 6.9$ investment still not bad and better from the legendary untamed dragon summoner camila that i sold recently at 6$. The difference between both of these dragon summoner is that it takes 4 mana and the legedary camila takes only 3 mana but sometimes mana doesn't matter but melee attack matter because that camila reduce one melee and the daria is trying to add one melee attack to all friendly monster so daria is better than camila. If you see that daria is allowing me to use up to level 7 common cards and camila was allowing me to use only level 5 common cards that is why i just hate her and same thing happened with rare, epic and legendary monster.

STATS AND ABILITIES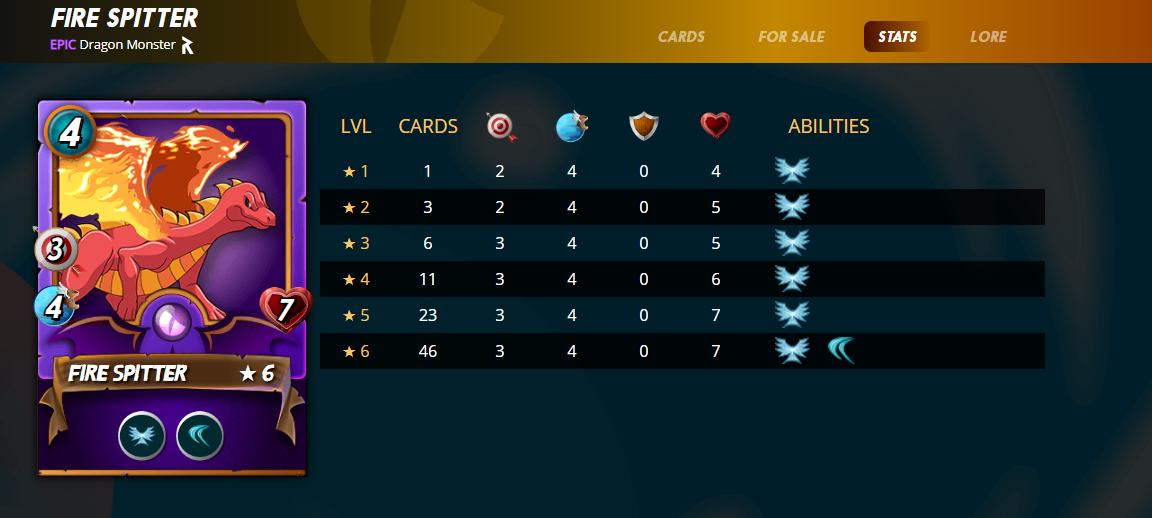 Well, so here i will talk about this monster, like now i can easily use this monster with my battles because of the dragon splinter and i have level 3 Fire spitter that is enough for me to give me 3 range attack with flying ability and can be easily used in the little mana leagues. However, i like this card because of its less mana, flying, and sometimes this one misses lots of attack of the enemy monster and you can also get the dodge ability at level 6 but for that you need 46 cards. i don't waanna invest my money to buy reward cards like this because sometimes you can get it easily from the quest and season end rewards.

SERPENTINE MYSTIC
For the bodyguards of the most important figures of the United Gloridax, Serpentine Mystics are brought in from the southern Burning Lands. In the lands of their home, the mind magic of these Serpentines is forbidden.
Read More
Well, here is one more hidden magic monster from the dragon family SERPENTINE MYSTIC that works fine when your opponent use healing monsters so this one will apply the affliction ability on your enemy monster to remove the healing ability even that will not get the healing from back line monster and can easily be killed. i like this one because of its low mana but awesome ability of affliction that you can use in little mana leagues. However, you can get only two abilities from this rare monster the one is afflilction and the other one is weaken means that it will reduce the speed of all enemy monsters.

QUEST REWARDS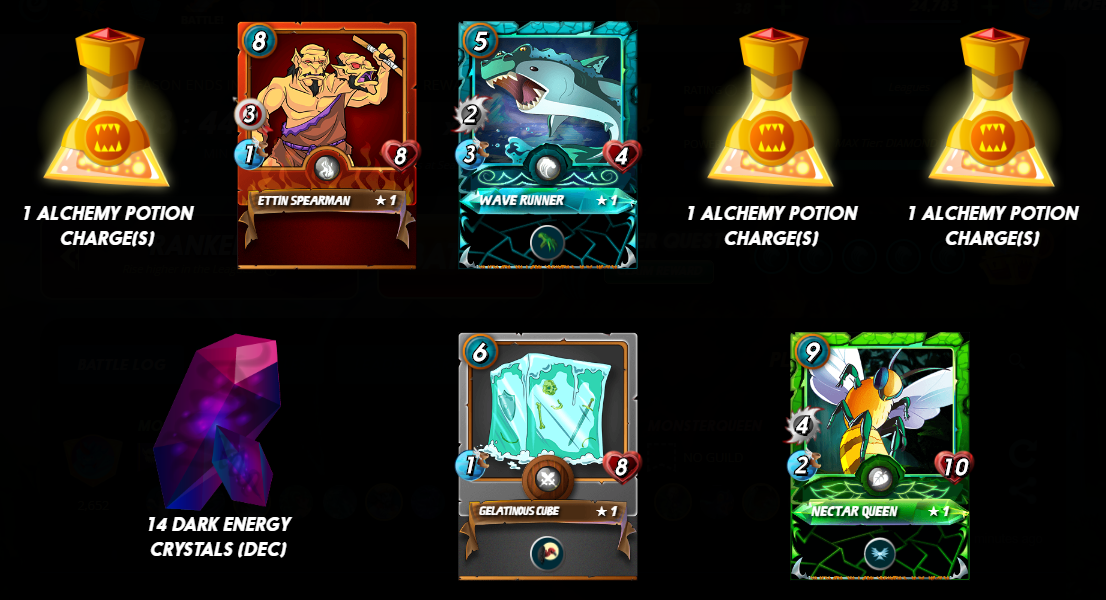 Same like otehr days today's quest rewards are also shit but one thing that i am going to tell you that today i faced some bots of E-nminers etc so it means that all the mighty and strong deck players have crossed the bridge from Gold leagues or will have in the leaderboard so now i can easily touch the diamond league and will be there soon because i have some points left to reach there. By the way the quest rewards are here that you can see in which you can find only common cards and potion charges but no rare or epic one and don't think about getting legendary from the quest now a days with less loot chest like this lol...

ABOUT LEO
i just missed the chance of buying leo at low price because someone dumped too much leo like somone said that because of a bug hacker prints lots of leo so that is the reason but still not sure whats happened even the team did not made any anouncement. However, i just placed some buy orders of leo but still not yet filled even at high price but will wait for it and i hope the price will be stable and reach back to 1.8 or something hive per leo.
This is enough for today see you tomorrow will share another post and another card from the daily quest special thanks to @fedesox for the great support much love and stay blessed.


All images are from the Splinterlands website if you are new to this game then signup here to play the game click here for signup
---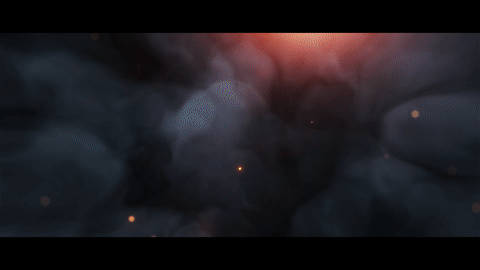 ---
Thanks For visiting my Blog
Best Regards @moeenali