"According to the health department, this is the first time in the state that the number of infected people has crossed 4,000 in one day and 61 people have died".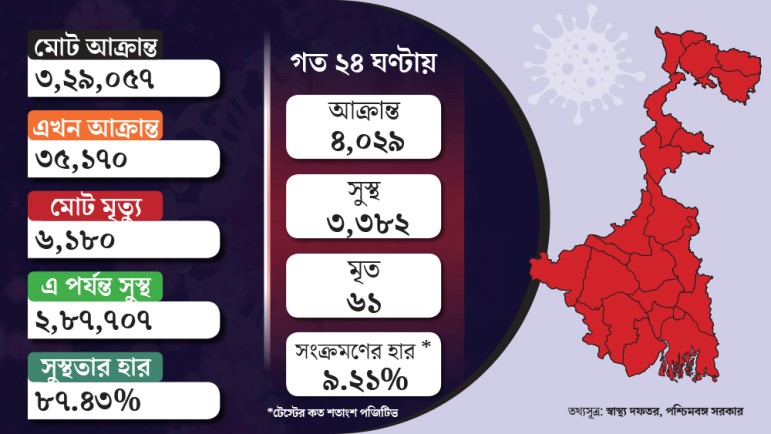 My city is Kolkata. In a place like the city of Calcutta, I am an ordinary resident of Barasat in the North 24 Parganas district of West Bengal. Kolkata is a big and beautiful city. Kolkata is a busy city and in a busy city every person is busy with their own activities every day, people of different languages live here.
But now a severe epidemic like the corona virus has disrupted the lives of all cities and people living there. The deadly virus was first detected outside India in West Bengal in March and then gradually spread to Kolkata, North 24 Parganas in West Bengal.
The corona virus has been around for a long time and people have become obsessed with it. Normal life as before, no one can move around with joy in mind. Although the situation is now much better than before, everyone is recovering fairly quickly.
Our recovery rate in India is now about 90%. However, even after recovering, the number of victims is not decreasing, the number of victims is increasing day by day. Especially now the number of victims in North 24 Parganas of West Bengal is higher than Kolkata which was the highest number of victims in Kolkata a few days ago.
Today, the number of the first outbreaks in the entire state of West Bengal has crossed 4,000 in a single day and 61 people have died on the same day, according to the health department. As a result, the total number of infected people in the state is 3 lakh 29 thousand 57 people and 8,180 people have died.
Of these, 18 died in Calcutta and 13 in the North 24 Parganas. But in terms of victims, North 24 Parganas, Kolkata has 809 people in one day whereas in North 24 Parganas there are 871 people and 72 more people. Looking at today's graph, one can understand the situation.
THANK YOU VERY MUCH