"The state government has remained silent despite a letter from the railway authorities to the state government to launch local trains".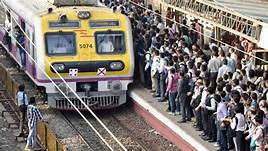 This is our local train running in Kolkata city of West Bengal. Every day thousands of people travel to different places by these local trains. The train is a simple means of transportation for human life so that it can travel a long distance in a very short time.
Today, all those trains have been shut down for a long time due to the epidemic Corona virus. Although now a few trains are running little by little because it is urgent for the working people. Everyone comes to work from different parts of the country to earn a living.
After a long time today, the railway authorities sent a letter to the state government to fully launch the local trains, but there was no strong news from the state government about the launch of the local trains at the moment, the press conference said.
The state government is currently silent as the corona virus has not yet subsided. Besides, a big festival like Durga Puja is going to start in the state in a few days. There is a lot of speculation about the tendency to get infected with the virus when the crowd gathers at this festival.
The decision to leave the local train is taken in view of the fact that people come by train from different places to enjoy the festival of Durga Puja. Doctors, meanwhile, say the number of attacks could skyrocket after Puja.
Apart from local trains, there are also metro rail services, but it is quite possible to control the congestion on metro rail but it is not possible on local trains. There is a skepticism among all the administrations about all these issues. As the worship progresses, the tendency of people to go out also increases.
In addition, people have to go out regularly for livelihood and at the same time it is seen that people are gathering there to do daily shopping. In that case, if the local train is abandoned, this crowd may be encouraged to grow further.
In addition, in Kolkata, where the festival is bigger and the number of victims is higher than the daily average, the number of people going to Kolkata will increase if the train is launched. As a result, according to all administrations, the risk of an increase in the number of infections is not being ruled out.
After the puja, the crowd can be reduced a bit and the tendency of people to go out without any urgent need can also be reduced. It is said that the state government wants to take a decision to start the train after being calm in all respects.
THANK YOU VERY MUCH