Almost a year ago when I first joined WEKU I wrote a introduction ABOUT MY WORK - THE MYSTIC ARTIST that I linked to in subsequent posts. Alas, when I checked back on it I find that many of the images shown had been "lost" from the server. I guess it may have had something to do with some rough patches WEKU went through those days.
Thus I decided to redo some of that blog, as well as update it, in order to link to it in future posts.
A year earlier, I had written a similar intro on Steemit, and I am using portions of it in this blog.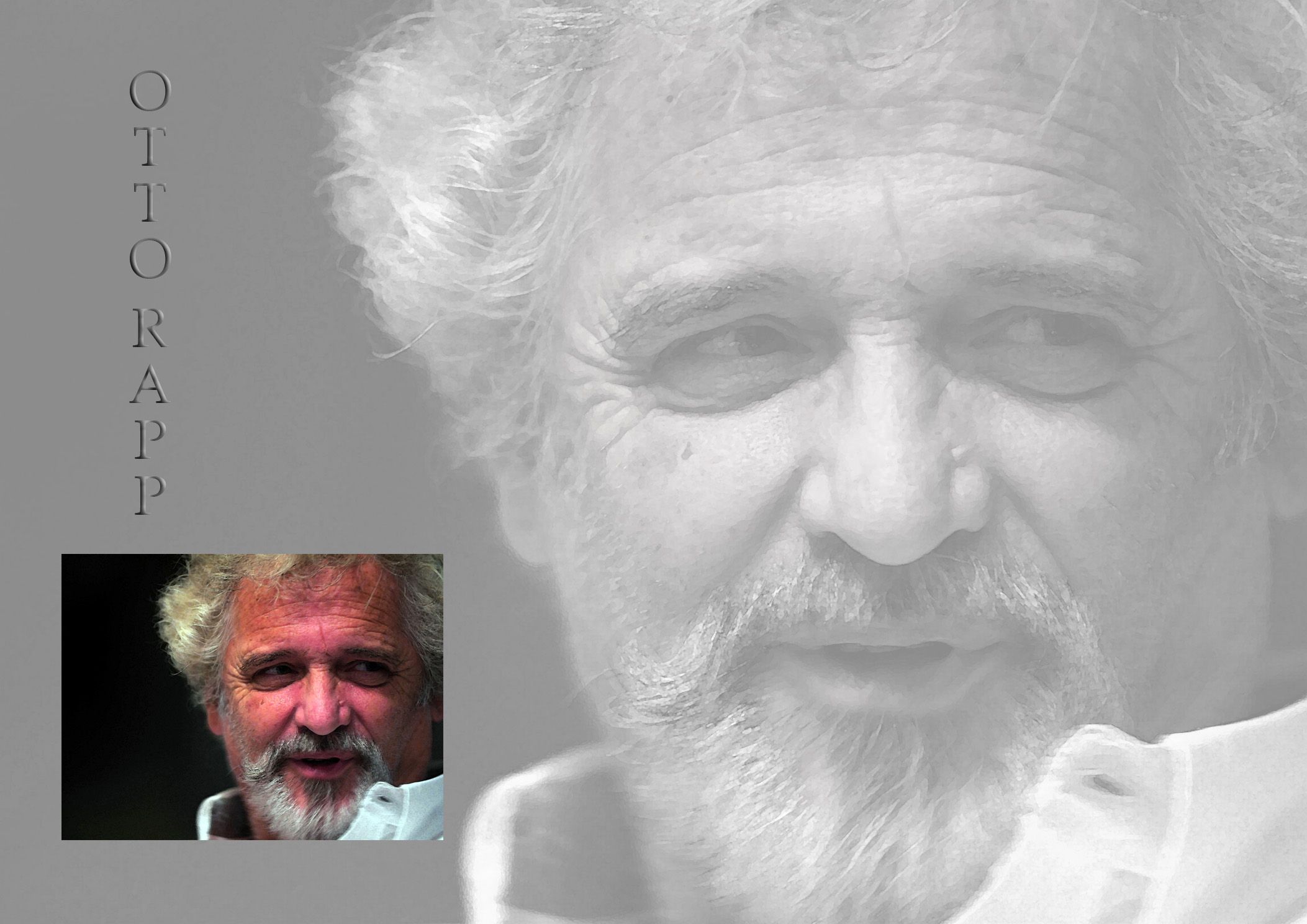 So here it goes, my "new and improved"

INTRODUCTION
I like to introduce myself with this, one of my most ambitious drawings from 2017:
EROS THANATOS II
graphite on paper, 120 x 100 cm - 2017
---
My name is Otto Rapp, and I have been around this mortal coil for quite some time now, since 1944 to be exact.
A detailed Introduction is found on my website: Art of the Mystic - Introduction
ABOUT MY WORK
"These are universal archetypes that may be found deep inside our collective subconscious. While seemingly extraterrestrial and alien, they are also strangely familiar. I take the viewer into an area that they might have been before in another existence or have entered in their dreams. It is a 'method in this madness' but everything arises by elimination of conscious guidance. The work grows seemingly by itself, like frost flowers on a windowpane. "
SOME PAINTINGS
Bogomil's Avatar - Revisited - 40 x 50 cm - 2018 - acrylic glazes on panel
Bogomil's Court - acrylic on canvas, 71 x51 cm - 1976
ZOOM

FEAR OF FLYING - acrylic on canvas - 71 x 51 cm - 1977
ZOOM


PROPOLIS : acrylic on canvas - 61 x 46 cm - 1976
ZOOM


PARTHENOGENESIS II - acrylic on masonite - 17x28.5cm - 1992
ZOOM


FOMORII INTERIOR II - acrylic on canvas - 2011
ZOOM

VIS-A-VIS DALI - acrylic on canvas - 51 x 71 cm - 1977
ZOOM


MAGIC POULTRY - acrylic on canvas - 51 x 71 cm - 1976
ZOOM

---
I deliberately posted most paintings from my early career, works that you may not readily find on my website. This gives you a good overview how it all started. A lot of my older work can also be found on DeviantArt: ArtOfTheMystic
---
Aside from Paintings, my forte is actually drawing, such as this one: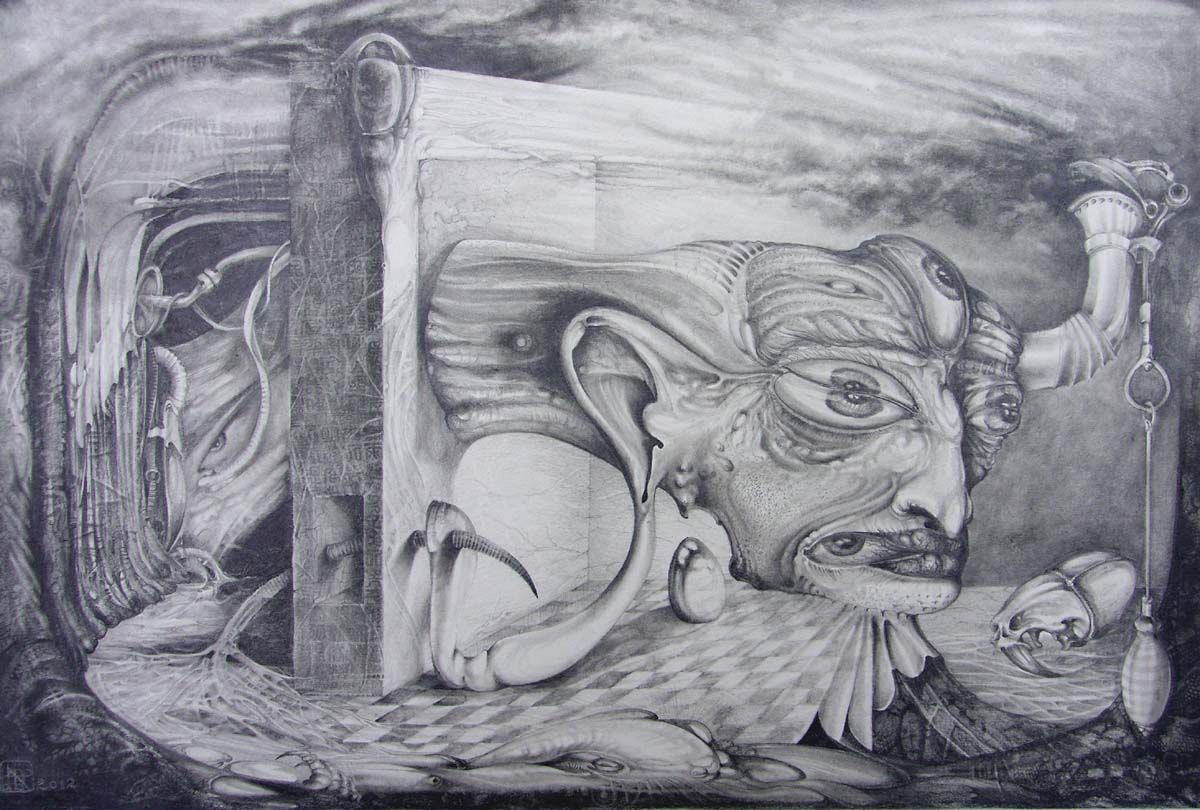 Alpha and Omega: The Reconstruction of Bogomil's Universe
SOME MORE DRAWINGS
JABBERWOCKIE - india ink on paper - 34 x 52 cm - 1993
ZOOM

TRIPPING THROUGH BOGOMIL'S MIND
India ink on paper 30 x 22.5 cm - 2008
ZOOM

HORROR VACUI
charcoal on gesso board - 30 x 24 cm - 2015
ZOOM

KRIX KRAX SPIRIT GUIDE - Detail
charcoal on gessoed masonite - 2014
the full-size drawing measures 50 x 70 cm
ZOOM

---
At times when I feel playful, I use my designs, or details of my designs, to create some digital work: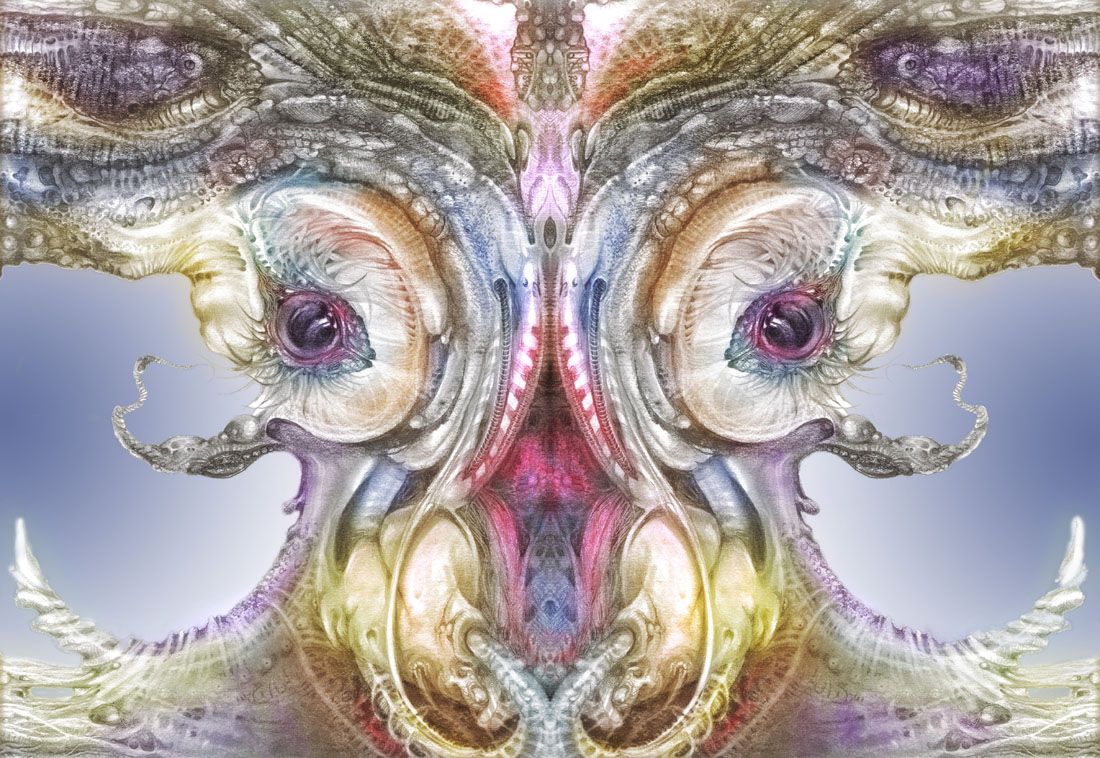 Fomorii Incubator - digital adaption from one of my drawings.
Much of my digital work is specifically created for my fashion designs..............
such as this one:
---
Visit my website
▼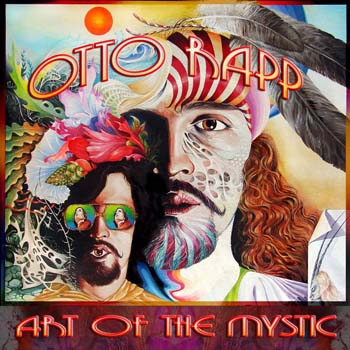 PRINTS OF MY ARTWORK AVAILABLE HERE:
Note: I am an Austrian Artist living in Vienna